100 Day Kindergarten Homework Pages
100 Days Activities, Rhymes, Printables, and 100 Days Book Suggestions
100 Collection
Have each student bring in a collection of 100 small items, such as paper clips, cotton balls, or pennies. Provide a poster board and let children create an artwork with the items.
100 Paper Chains
Break the class into 10 groups. Have each group make 10 paper chains. Come together and attach all chains to make a 100 paper chain. 
100 Jumping Jacks
Have children spread out in the classroom or outside and lead them in ten sets of ten jumping jacks. Ask children for other ways the sets of jumping jacks can be divided for subsequent days. Then, do 100 jumping jacks using a different number pattern. Make sure children have enough rest between sets and access to water. Encourage children to only do the number of jumping jacks they feel most comfortable with. If desired, the sets of jumping jacks can be spread throughout the day so that everyone gets a chance to do 100 over a longer time period with many rests in between.
100 Piece Puzzle
Break the class into groups and have them put together 100-piece puzzles.
100 Structure
Provide 100 blocks, or paper cups, and let children create a structure.
Dancing for 100 Seconds
Have children spread out in the classroom for a dance break. Tell them they can dance in place using their best moves for 100 seconds. Then, play music for exactly 100 seconds (1 minute and 40 seconds). Use a stopwatch or second hand of the clock to keep time. Ask children if 100 seconds was longer or shorter than they thought it would be.
Hundreds Day Relay
What you need:
Jump ropes
Traffic cones
Balls
Small trash receptacle (for basket)
Clock or stopwatch
What you do: Divide the class into teams and explain that each team will race to complete 10 sets of 10 exercises, with one team member completing each exercise for a total of 100 altogether. Present the exercises, and show children where each exercise station is set up. Once a team member completes an exercise, he/she must move to the next station and tag his/her team member to begin the next set. Parent volunteers can be asked to monitor each station. Possibilities for the ten exercises are 10 jumping jacks, jumping rope for 10 rotations, kicking a ball between ten traffic cones, touching toes ten times, bouncing a ball ten times, shooting ten baskets (a small trash receptacle can be used for the basket), balancing on one foot for ten seconds, completing ten sit-ups, and hopping on one foot ten times.
100 Days Printables, Coloring Pages, and Resources
100 Days Rhyme and Song:
100 Days Ago
Original Author Unknown
(Tune: Hi Ho, Hi Ho from Snow White)
Hi, ho, hi, ho,
100 days ago,
We came to school,
And we're so cool.
Hi, ho, hi, ho, hi, ho.
100th Day Song 
Original Author Unknown
(Tune: I've Been Working on the Railroad)
We've been working in our classroom,
For 100 days.
We've been working in our classroom,
Here in the __________ grade.
Rising early in the morning,
Bring our books and pencils, too.
Every day we come to __________ (school name),
We learn something new.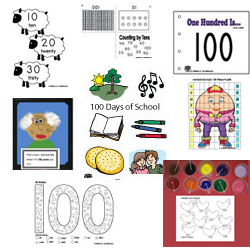 One Hundredth Day Song
Original Author Unknown
(Tune: Here We Go 'Round the Mulberry Bush)
One H-U-N-D-R-E-D is a very special number to me,
Ten sets of ten all in a line,
Make one hundred, oh so fine.
Shout: 10, 20, 30, 40, 50, 60, 70, 80, 90, 100!
We can get there by ten's,
We can get there by five's
We can go back to zero
And start once again...
Shout: 5, 10, 15, 20, 25, 30, 35, 40, 45, 50, 65, 70, 75, 80, 85, 90, 95, 100!
We've been together for 100 days,
Learning and growing in so many ways,
We've come together to sing and to say,
Happy, Happy, Hundredth Day!
100 Days or School Snack Ideas
Eating 100
What you need:
Stick pretzels,
Small circle crackers
What you do: 
Show children how to make the number 100 with one straight pretzel for the 1 and two small round crackers for the zeros. 
100 Days of School Books
Do you celebrate 100 days at your school? We do and I look forward to it every year. It is such a fun way to celebrate making it through the first 100 days of school. It's a celebration that isn't connected to a holiday which can make it fun. Some teachers only change one or two areas of the school day to celebrate, while others make the whole day a 100 day celebration! I like to incorporate 100th day into as much as I can within the day without losing teaching moments.
100 Ideas For The 100th Day Of School
Here is the Ultimate List: 100 Ideas For The 100th Day Of School. Use this list to help you celebrate 100th day including decorations, printables, outfits, and more.
Classroom Decorations
Appealing Entries For 100th Day from MPM School Supplies
Entry & Classroom Set Up from Growing Kinders
100th Day Firework Banner
Crawl Through '0' To Enter from Mrs. Williamsons Kinders
100 Days DIY Banner from Something From Cassie
100 Whirls (5 pack)
100 Day Bulletin Board Dragon
100 Reasons Why We Love Our School from L Rompy
Hip Hip Hooray It's The 100th Day from Ms. Mary's Busy Bees
Give Us A Hand For Our 100th Day Of School from Ramona Sanchez
Outfits
T-Shirt Ideas For The 100th Day Of School from Kinder Craze
Talley Mark T-Shirt from Really Quite Lucky
Make A Tree Button Shirt from Tatertots & Jello
Happy 100th Day Of School Shirt (For Teachers) 
Googly Eye Shirt from One Artsy Mama
Glittered Boppers Party Headband
Dress Like You're 100 from Fluttering Through First Grade
100th Day Of School Owl Glasses (12 Pack)
I Survived 100 Days Of School – Bandaid Shirt from South Shore Mamas
Beaded Flower Shirt from Alisa Anderson
Books
Jake's 100th Day Of School 
One Hundred Hungry Ants 
Centipede's 100 Shoes 
100th Day Worries 
Disaster On The 100th Day 
Emily's First 100 Days Of School 
Miss Bindergarten Celebrates The 100th Day
100 Things That Make Me Happy 
One Watermelon Seed 
The Chicken Problem 
Games & Class Activities
100 Piece Puzzle With Classmates from IAccept
100 Link Paper Chain from Larremore Teacher Tips
100th Day Search and Color from The Kinder Polka Dot Patch
100 Day Collections with Printable Baggie Label from SC Jeff Co K12
Build A 100 Cup Structure from Laurie Turk: Tip Junkie
100th Day Of School Hopscotch from Kinder Craze
100 Day Fitness Fun from Ashlee Kelley Harper
100th Day Of School Galore: Photo Booth Props, Games & More
100 Day Chant
What Can I Do In 100 Seconds? from Mrs Ts First Grade Class
Snacks
1ooth Day Snack Activity Printable from Little Miss Kindergarten
1ooth Day Snack Printable from Fall Into First
Licorice and Peach Ring Cupcakes from Indulgy.com
Rainbow Snack from Amanda Creation
Wafer Cookie & Donut Snack from Shawnee Jarvis
Sandwich & Cheese Lunch from Lunches Fit For A Kid
Pinwheels & Apple Sandwiches from 1oo Days Of Real Food
Lunch Made Easy from Keeley McGuire
1ooth Day Of School Cake from Tip Junkie
Sucker Bin from Sandy Van Toorn
Free Printables
100th Day Glasses from Technology Rocks Seriously
100 Items Paper Bag Challenge from Clever Classroom Blog
100 Days Smarter Crown from Julie Lee
100 Days of Hard Work Crown from K is for Kinderrific
I Can Make 100 Dots from Mrs. Hodge and Her Kindergarten Kids
100th Day Coloring Page from More Than Math By Mo
My 100th Day Flip Book from Classroom Freebies
My 100 Day Flip Booklet from Classroom Freebies
Happy 100th Day Certificate from Seusstastic
16 Page 100th Day Printables from Tip Junkie
Math Activities
Highlight 100 Printable from Sheila Melton
What 100 Looks Like Comparing Activity from Kindergarten Chaos
100th Day Bean Flip Printable from Sara Rhodes
100th Day Math Worksheet from Mrs. Ahrens
Free 100s Day Puzzle – Differentiated from Mrs Miners Monkey Business
Hershey Kiss Seek & Find Math Game from Mrs. Hodge and Her Kindergarten Kids
100th Day Of School Math Printables from Mrs. Jones' Creation Station
Fill In The Missing Numbers from Starfall
Build An Ice Cream Cone By 10's from Mrs. Lees Kinder Kids
Estimation Activity from Mrs. Terhune
Language Activities
Our 100th Day Mini Book from Wild About K and First Kidz
100th Day of School Writing Prompt from Two Pink Peas In A Pod
We Can Write 100 Words from Kinder Craze
Write Your Name In 100 Seconds from Mrs Bohatys Kindergarten Kingdom
If I Had $100 I Would Buy.. from Scholastic.Com
100 Days Poem and Magic Snow from First Grade Blue Skies
100th Day Mini Book from Wild About K and First Kidz
If I Had 100 Book from Megan Triplett
When I'm 100 Writing Prompt from A Cupcake For The Teacher
What Would You Do To Get Your Face On The $100 Bill from Teach Me Toriseva
Arts & Crafts
100th Day Cereal Necklace from Mrs Ungers Kinders
I am 100 Days Smarter Hat Craft from Saddle Up For 2nd Grade
100 Gumballs For The 100th Day from Little Miss Glamour Goes
Today Vs. 100 Years Old Picture Craft from Who's Who and New
Color Pages from Classroom Freebies
100 Days Brighter Hat Craft (With Printable) from LL School Daze
100th Day Neck Tie and Necklace from Mrs Williamsons Kinders
100th Day Quilt from L Rompy
Create A 100 Picture from Beth Cornell
100th Day Fishbowl from Little Hip Chick
Take Home Favors
Smarties Take Home Snack from Teaching With Terhune
Treat Bag Idea from Creative Teaching Press
Happy100th Day Wrist Band
Happy 100th Day Stickers
You "O-Fish-Ally" Made It from Classroom Freebies
I Survived 100 Days Of Kindergarten Tag from Helping Little Hands 
Happy 100th Day Pencils
100th Day Treat Bag from Joseph Hernandez
100th Day Poem from Rachel Lukacsko
Your Teacher Thinks You're Worth 100 Grand from Amanda Terhune
And for even more ideas check these out too:
More 100th Day from Growing Kinders
100th Day Of School Crafts For 100 Days from Sweet Tea Classroom
75 Ideas For 100th Day Of School from Tip Junkie
100th Day Of School Activity Packet from Jeannie Hunter
16 Page Freebie: 100th Day Activity Packet from Tip Junkie
I hope this list of ideas for 100 Days Of School helps you celebrate this fun milestone! I personally can't wait to start planning our 100th day! Do you have another idea that didn't make our list? Comment below, we'd love for you to share!
Filed Under: Fun in the Classroom, My Classroom