College Rosa Parks Essay Unc
In an ESPN report on academic scandal at the University of North Carolina-Chapel Hill involving student athletes, the world got a look at an example of a lackluster final paper submitted by a student who reportedly received an A- as his final grade.
The paper went viral as the Internet reacted to how simple the short essay on Rosa Parks was. But it turns out the paper was actually plagiarized.
A reader sent along a photo of the first page of a children's book called "Rosa Parks: My Story," by Parks and Jim Haskins. It's unmistakably similar: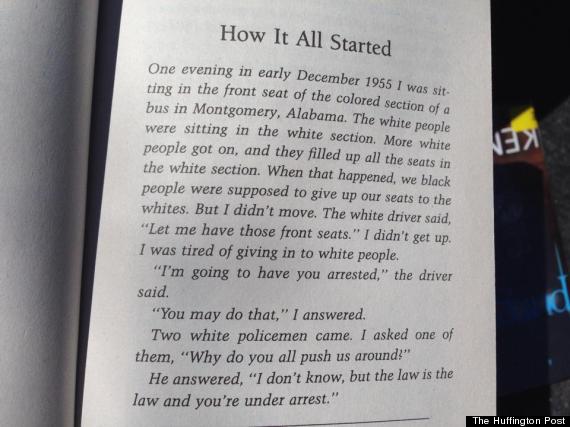 And here's the image of the student athlete's paper from the ESPN report: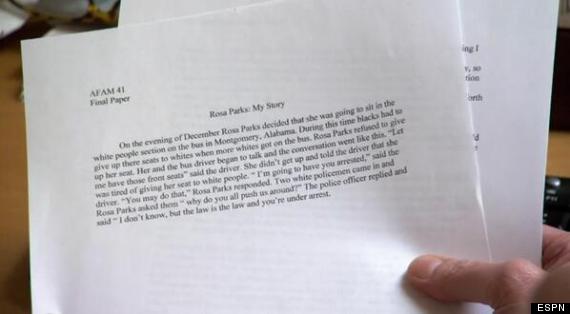 Julius Nyang'oro, the former head of UNC's African-American studies program, faces criminal charges for allegedly receiving payment for classes that never met. The university said earlier this year it would conduct an independent review of academic irregularities, in addition to any ongoing investigations by law enforcement into potential criminal aspects.
For years, UNC Chapel Hill student-athletes and non-student-athletes alike used "paper classes" — courses that never met and required only one final paper — to boost their grades.
The NCAA announced on Friday that it "could not conclude" that UNC violated academic rules after a years-long investigation into the academic scandal, saying the university will not be sanctioned.
Grading for the "paper classes," the NCAA found, was mostly done by a UNC secretary, who had been delegated the task by her department chair.
"The papers consistently received high grades," the NCAA found.
"As far as her grading method, the secretary admitted that she did not read every word of every paper submitted," according to the NCAA report. "But in following the department chair's instructions, if the paper met his stated requirements, she gave it an A or a B."
In an ESPN report in March 2014, ex-UNC football player Deunta Williams and whistleblower Mary Willingham detailed how these paper classes worked.
Willingham, who called the paper classes "scam classes," showed ESPN an example of one of these papers. It's a one-paragraph, 146-word "final paper" on Rosa Parks.
The student received an A-minus overall in the course, Willingham said.
Here's the text (h/t @BrianAGraham):
"On the evening of December Rosa Parks decided that she was going to sit in the white people section on the bus in Montgomery, Alabama. During this time blacks had to give up there seats to whites when more whites got on the bus. Rosa parks refused to give up her seat. Her and the bus driver began to talk and the conversation went like this. 'Let me have those front seats' said the driver. She didn't get up and told the driver that she was tired of giving her seat to white people. 'I'm going to have you arrested,' said the driver. 'You may do that,' Rosa Parks responded. Two white policemen came in and Rosa Parks asked them 'why do you all push us around?' The police officer replied and said 'I don't know, but the law is the law and you're under arrest.'"